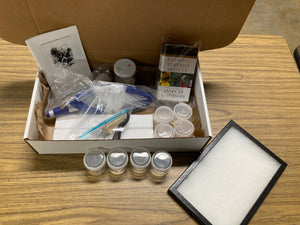 Encourage your student to explore the fascinating world of insects! This deluxe insect collecting kit is ideal for any student interested in entomology!
This kit includes:
"How to Make Insect Collections" booklet
Insects and Spiders Audubon Field Guide
Deluxe insect net
8 insect collecting jars
Insect killing jar
Acetone
100 Insect pins
Insect spreading board
Insect pinning block
Magnifier
Ruler
Pinning forceps
12x8x2" glass-top insect display case
Recommended For Ages 8+
WARNING:
Sharp and/or Blunt Obects Included.
Use Caution - Chemicals Included.
Read MSDS Information Before Use.
Adult Supervision Required.
**Sometimes we substitute items for similar items depending on our suppliers**